Lingia de cunzerc 2021 y jita tle Marche
Per dé na fin ala pausa sfurzeda, à l cunsëi tëut la dezijion de mëter a jì na lingia de cunzerc de setëmber 2021.
Sambën che n messova tenì ite cërta regules de segurëza, ma n fova cuntënc che n à inò pudù cianté dan n publich dal vif y chël ie senzauter per i ciantarins l plu bel.
L prim cunzert a St. Michael - Eppan ie monce unì tëut su dala Rai Südtirol, do an ciantà a San Martin, te Sëlva y tla dlieja de Urtijëi, for sot'a la bachëta de Samuel Runggaldier.
Finà via ie l proiet cun na jita y n bel cunzert adum ala Mujiga de Sëlva a Sassoferrato tle Marche ulche on nce pudù vijité Riccione, Gradara y le Grotte di Frasassi.



Concerts 2021
10/09/2021 
Concert in St. Michael - Eppan - 20:30
Chiesa Parrocchiale | Pfarrkirche

11/09/2021 
Concert in San Martin (Badia) - 20:30
Chiesa Parrocchiale | Pfarrkirche

12/09/2021 
Concert in Selva Val Gardena - 16:30
Piazza Comune | Gemeindeplatz

12/09/2021 
Concert in Ortisei/St. Ulrich - 20:30
Chiesa Parrocchiale | Pfarrkirche

09/10/2021 
Concert in Sassoferrato - 21:15
Chiesa di Santa Maria di Ponte del Piano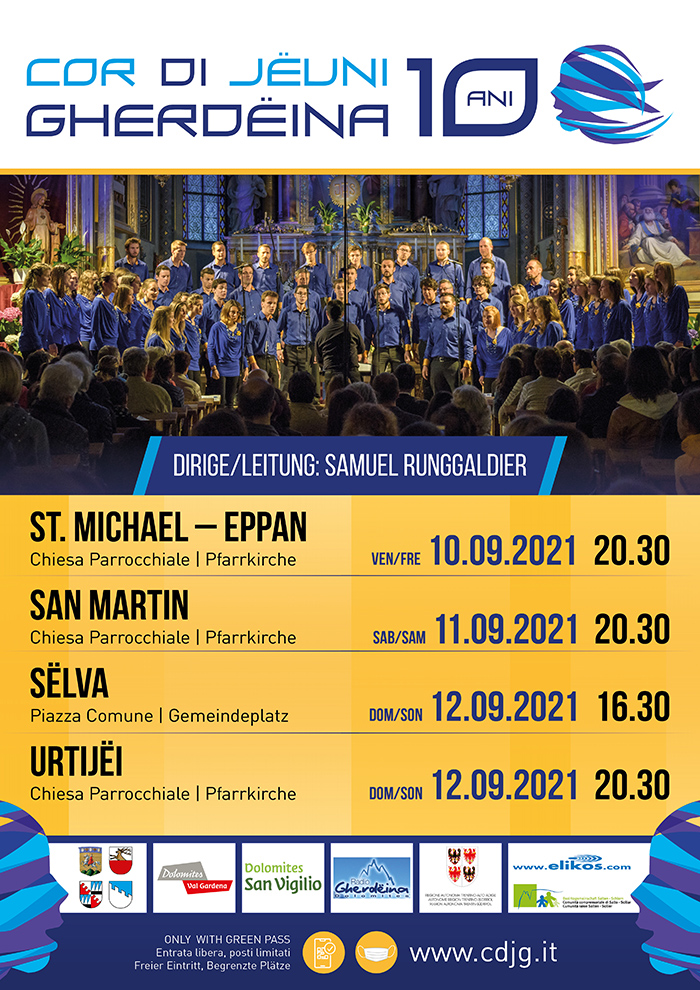 Giut al durà, ma l ie sen inò tan inant:
l Cor di Jëuni Gherdëina se lascia inò audì te na lingia de cunzerc,
ulache i fajerà nce n saut de reviers tl tëmp, purtan n valgun di highlights di ultimi 10 ani.
L prim cunzert sarà n vënderdi ai 10 de setëmber dala 20.30 tla dlieja de St. Michael - Eppan.
L va inant tla Val Badia, tla dlijia da San Martin, n sada ai 11 de setëmber, dala 20.30.
N dumënia 12 de setëmber sarà po l cor da audì doi iedesc te Gherdëina.
Dala 16.30 sun la plaza de chemun de Sëlva y dala 20.30 te dliëja San Durich a Urtijëi.
L ne ie nia da se nuté su.
Danz che n puderà mé ite cun green pass y la lerches sarà limitedes aldò de coche vëij dant la normes.
L cor di jëuni, sot'a la direzion de Samuel Runggaldier, se ncunforta a ve saludé.
Dopo una pausa forzata,
con grande piacere, il Coro Giovanile della Val Gardena (Cor di Jëuni Gherdëina) si fa sentire in una serie di concerti,
dove oltre ad un nuovo programma, si potranno anche sentire highlights tratti dal programma degli ultimi 10 anni.
Il primo concerto si terrà nella Chiesa Parrocchiale di San Michele Appiano, venerdì 10 settembre alle ore 20.30.
Sabato, 11 settembre, il coro canterà in Val Badia nella chiesa di San Martin, alle ore 20.30.
Domenica il coro si esibisce due volte in Val Gardena. Alle ore 16.30 in Piazza Comune a Selva di Val Gardena e alle ore 20.30 nella Chiesa Parrocchiale di Ortisei.
Non c'è bisogno di prenotare i biglietti, ma i posti saranno limitati e si entra solo con il green pass.
Il CDJG, sotto la direzione di Samuel Runggaldier, sarà lieto di salutarvi.
Nach einer Zwangspause,
startet der Jugendchor Gröden wieder mit großer Freude mit einer Konzertreihe durch,
wo Sie neben einem neuen Programm auch Highlights aus dem Programm der letzten 10 Jahre singen werden.
Das erste Konzert findet am Freitag, 10. September um 20.30 Uhr in der Pfarrkirche von St.Michael Eppan statt.
Am Samstag, 11. September, tritt der Chor im Gadertal um 20.30 Uhr in der Kirche St. Martin in Thurn auf.
Am Sonntag tritt der Chor zweimal in Gröden auf. Um 16.30 Uhr auf den Gemeindeplatz in Wolkenstein und um 20.30 Uhr in der Pfarrkirche St. Ulrich.
Die Tickets müssen nicht vorbestellt werden, jedoch sind die Plätze begrenzt und Sie können nur mit dem Green Pass teilnehmen.
Der Chor CDJG, unter der Leitung von Samuel Runggaldier, freut sich auf Ihr Kommen.
After a forced break,
with great pleasure, the Val Gardena Youth Choir (Cor di Jëuni Gherdëina) starts again with a series of concerts, where in addition to the new program, you will also be able to hear highlights from the program of the last 10 years.
The first concert will be held in the Parish Church of San Michele Appiano, on Friday 10th September at 8.30 pm.
On Saturday, 11th September, the choir will sing in Val Badia in the church of San Martin, at 8.30 pm.
On Sunday the choir performs twice in Val Gardena. At 4.30 pm in the Municipal Hall in Selva di Val Gardena and at 8.30 pm in the Parish Church of Ortisei.
There is no need to book tickets in advance, but places will be limited and you can only enter with the green pass.
The choir CDJG, under the direction of Samuel Runggaldier, will be happy to greet you.